Digital Twin
Digital twins and the Industry 4.0 administration shell offer optimization potential over the entire life cycle of production systems and products. For this purpose, heterogeneous data stocks must be integrated, annotated, managed and securely exchanged globally. The implementation is carried out using international standards such as OPC UA.
Industry 4.0 communication: More and more customers demand standardized communication for Industry 4.0 – with reliable standards, uniform interfaces and meaningful information models.
This is the only way to integrate machine and plant data according to the plug & monitor principle. We develop integration concepts for Industry 4.0 communication with OPC UA including the corresponding information modeling. We support committees and associations in the specification of Industry 4.0 communication and write corresponding guidelines for your customers. We carry out detailed potential analyses for Industry 4.0 communication in your company.
contact person:
Florian Pethig
Fraunhofer IOSB-INA
Campusallee 1 32657 Lemgo
Data platforms
We explore reliable, scalable and easy to maintain enterprise software for real-time analysis of industrial data. We enable companies of all sizes to design and implement data platforms. In doing so, we consider European data protection and IT security standards.
Dashboards
Key performance indicators (KPI) from production are visualized in the form of meaningful dashboards in real time. Together we develop KPIs that make sense for your individual situation. We then integrate the data required for the calculation from your IT systems and create web and app-based dashboards.
Interoperability
What has long been commonplace in the office thanks to interfaces in networks and USB connections will also become reality in manufacturing in the future. Using Plug & Produce, production systems can be redesigned as required – completely independent of the manufacturer of the individual machines and components. In addition to condition monitoring and predictive maintenance, OPC UA, for example, as a key technology of Industry 4.0, enables general production optimization through standardized information provision. With the help of digital (component) descriptions (DigitalTwin) or the I4.0 management shell, cognitive architectures are created that offer new possibilities for process/production planning, monitoring and conversion.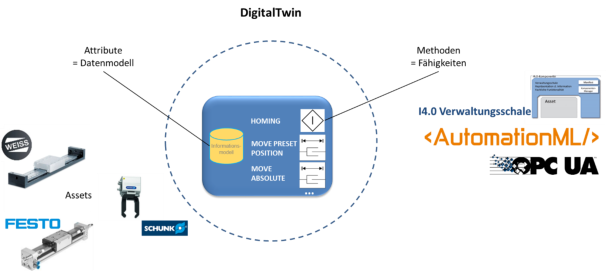 contact person:
André Mankowski, Philip Priss, Natalia Moriz
inIT | Technische Hochschule OWL
Campusallee 6 | 32657 Lemgo