OPEN - SOUVEREIGN - SUSTAINABLE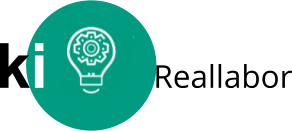 AI Living Lab – an open data platform for collaborative Research of Artificial Intelligence in Industry 4.0
Th AI Living Lab is an open, virtual and real consortium of companiers and AI experts for the collaborative development of solutions for industrial challenges. The AI Living Lab is Government-funded by BMWi and initiated by the Plattform Industry 4.0 and Fraunhofer IOSB-INA.
Discover for your company solutions of your digital questions. Get access to high level data as an AI expert. And develop together with us conditions for the most beneficial application of AI in german industry.
I would like to join and represent:
1A company, that likes to solve a challenge in the own business and operations 
Methods of artificial intelligence already promote high benefits for industry. Cases of early diagnosis of wearing, output increase, optimization of energy consumption or the reduction of quality problems.- are proven advantage in industrial application.
A an manufacturing company you would like to increase benetifs of the possibilties of artificial intelligence?
In six steps you can get access to a beneficial implementation of AI in your company:
Most companies do not possess structured data (1). By technologies supporting interoperability your data will be structured in a way they can be processed in further steps (2). The data standardization along Industry 4.0 conformities implicates several advantages: your data get structured and machine-readable. Thus, systems get connective and AI algorithms can be implemented in an easier way (3). Your data can be integrated in an AI platform and analysed by AI experts (4) The results of this analyses help you to find valuable optimization potentials for your plant, to detect and analyse anomalies or give you hints for data based added value in your manufacturing systems and processes (5).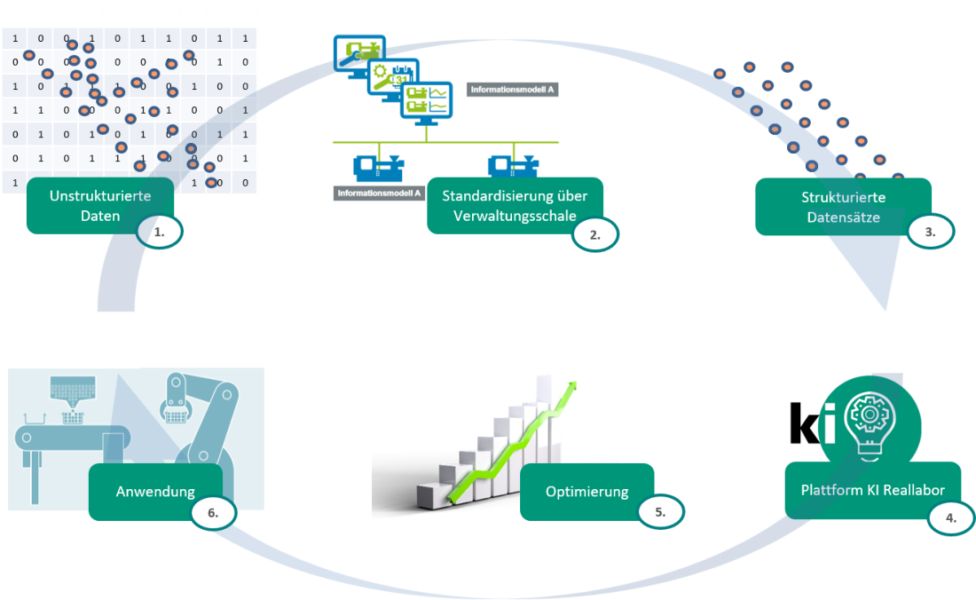 We support your Company in the integration of results and potential optimization (6) Starting with an AI potential analysis we collaboratively identify, where AI could be sensibly used in your company. Your concerns with regard to data privacy and intellectual property Rights are considered and we look for Solutions for your individual use case. In addition we match you with experts, who can perfectly adress your questions.
Contact Person:
Nissrin Perez | Fraunhofer IOSB-INA
nissrin.perez@iosb-ina.fraunhofer.de
2Data Scientist Looking for high level data
You are Researcher or Data Scientist and looking for high Level data for the training of algorithms? For this purpose we provide high level data on our AI platform. This data originates from our real production facilities at SmartFactoryOWL or from cooperating manufacturing companies. Data may include object oriented Image data from assembly processes or manufacturing process data like temperature or compressed air. We provide this data partly unstructured, partly structured or partly labelled with Industry 4.0 asset administration shell and meta Information. In this way data can be used without any extensive data engineering. You can find the data sets on our Kaggle Account – the online Portal for artificial intelligence.
We support you in the elaboration of fascinating use cases and integrate your findings into our communities – like the AI Community OWL or the KI Marktplatz.
Go to Kaggle
Contact Person:
Florian Pethig | Fraunhofer IOSB-INA
florian.pethig@iosb-ina.fraunhofer.de
3Interested in AI technologies and in the AI Living Lab
The AI Living Lab is a platform for artificial intelligence in a regulatory sandbox. In order to research the potentials of AI for the german industry, collaborative spaces are necessary, where use cases can be tested and human intelligence can interact to co-create artificial intelligente in an interoperable, souvereign and sustainable manner. For the government valuable hints can be derived for the regulatory constitution of artificial intelligence in industrial applications.
With this objectives use cases from Plattform Industry 4.0 can be tested under real condtions in the AI Living Lab. Experts from Fraunhofer develop technologies and deploy them, manufacturing companies yield requirements and own Business and manufacturing processes in the AI Living Lab.
In a first step two use cases will be reflected in the AI Living Lab.
Collaborative Condition Monitoring in Production
How can the collaboration of components and machinery can lead to a maximum of transparency and availability for the customer and his production processes?
Smart Product Engineering and Optimization by Customer Feedback 
How can customer Feedback can be integrated into my product Engineering with help of data analytics?
Further use cases from Plattform Industry 4.0 and companies can be integrated and investigated into the AI Living Lab. Insights in implementation and usage of These technologies will be documented and discussed in regulatory boards.– with the objective to create conditions, under that research, industry and Society profit from Technologies in the field of artificial intelligence.
Stay up to date and discuss with us in our communities or in various events around the AI Living Lab in our SmartFactoryOWL.
Contact Person:
Florian Pethig | Fraunhofer IOSB-INA
florian.pethig@iosb-ina.fraunhofer.de