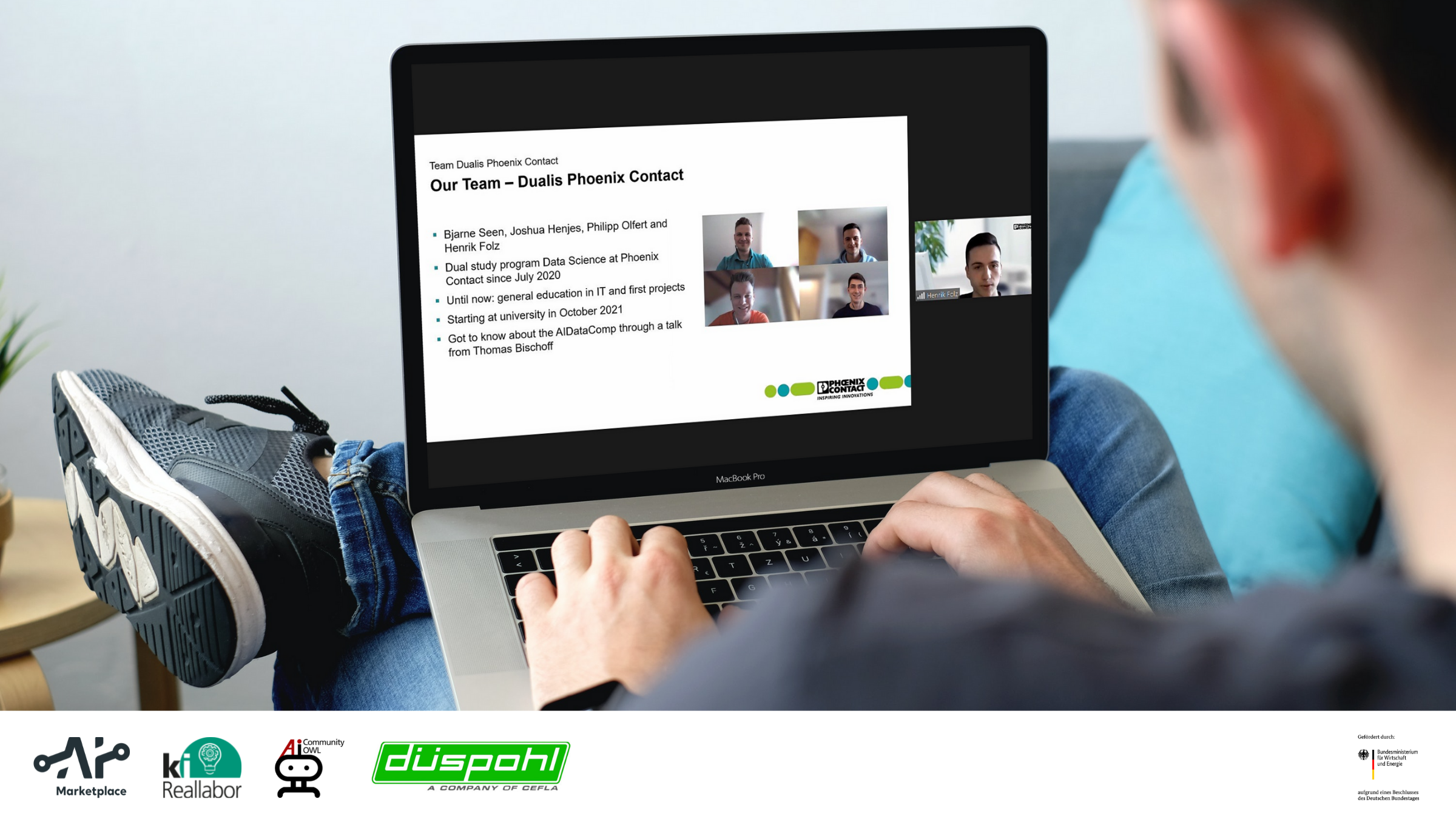 AI Living Lab and AI Marketplace celebrate successful Datathon premiere
"Open industrial data for AI development" – that was the credo of the Industrial Datathon, jointly organised by the AI Living Lab, the AI Marketplace and the AICommunityOWL. Around 30 heads of dedicated hackers, data analysts and data scientists from universities, research institutions, companies and start-ups smoked last week to solve real challenges from industry. The prize – an implementation project in the AI Living Lab – was unexpected for the winning team.
"The win was totally unexpected for us. We all only recently got into the topic of data science and wanted to gain application experience through the Datathon. Of course it's great that we were so successful straight away," says Henrik Folz, dual student of data science at Phoenix Contact. Together with his team colleagues, all of whom are also dual students at Phoenix Contact, he is now able to implement a project with the AI Living Lab from Fraunhofer IOSB-INA in the SmartFactoryOWL.
Challenge from the company düspohl Maschinenbau GmbH
But the event was also a complete success for the challenge giver of the Datathon, düspohl Maschinenbau: "For düspohl, this Datathon was a special opportunity to receive valuable input for possible solutions to master today's challenges with the help of production data," says Uwe Wagner, Managing Director of düspohl Maschinenbau. At its site in Schloß Holte-Stukenbrock, the company manufactures profile wrapping and laminating systems for international customers from the wood and plastics industry. In the industry, düspohl is known for its innovative solutions and pioneering work in automating the process. In the challenge set by düspohl, a profile wrapping machine was to be enabled by means of AI to configure itself for unknown products. The actual task in the challenge was to cluster various known profiles in such a way that düspohl's production system is able to adapt its configuration for unknown products.
"An exciting challenge," says Steven Koppert, research assistant at the Fraunhofer Institute for Mechatronics Design IEM, who supervised the challenge from the scientific side. Both technical competence and creativity were needed to solve the task – skills that all the teams demonstrated. "The teams' approaches to solving the problem were actually very interesting for us to follow. We will certainly take away helpful approaches for our project work in the AI marketplace," Koppert sums up. In the AI marketplace, düspohl and Fraunhofer IEM are working on an AI algorithm that optimises the setup process of the "RoboWrap", a fully automated profile wrapping system.
The winning team of the Datathon now has exciting months ahead of them. Together they can now design a 10,000 euro implementation project in the SmartFactoryOWL as part of the AI Living Lab. Nissrin Perez, Innovation Manager at Fraunhofer IOSB-INA, is looking forward to the collaboration: "So far, we have already realised very exciting AI implementation projects with the winners of the previous hackathons. We also already have good ideas for further collaboration with this very motivated and smart team in the AI Living Lab".
For Henrik Folz from the winning team, this is an exciting challenge: "I'm looking forward to solving real challenges from industry and thus gaining further practical experience."
The AI Marketplace and the AI Living Lab are two strategic initiatives of the Leading-Edge Cluster it's OWL. Both projects are driven by the topic of artificial intelligence, but pursue different thrusts: The AI Marketplace is about tapping the potential of AI in the area of product creation. The AI Living Lab focuses on downstream processes of product creation such as production, operation or service. This results in numerous synergies: for example, recommendations from potential analyses of the AI marketplace can be transferred by companies into implementation projects in the AI Living Lab.
"Wir sehen in diesen beiden Initiativen einen großen Mehrwert für die Wirtschaft in OWL", sagt Günter Korder, Geschäftsführer it's OWL. "Die Angebote und Leistungen von KI-Marktplatz sowie des KI Reallabors decken die gesamte Wertschöpfungskette ab und bieten Unternehmen so eine große Bandbreite an Services für die Digitalisierung ihrer Wertschöpfung an. Die <AIDataComp> ist darin ein Baustein".
Unterstützt wurde der Datathon auch von der AICommunityOWL, die im vergangenen Jahr mehrmals die AI Challenge Days durchgeführt hat und in OWL Aktivitäten rund um KI organisiert und unterstützt. Das KI Reallabor und der KI-Marktplatz werden vom Bundesministerium für Wirtschaft gefördert.