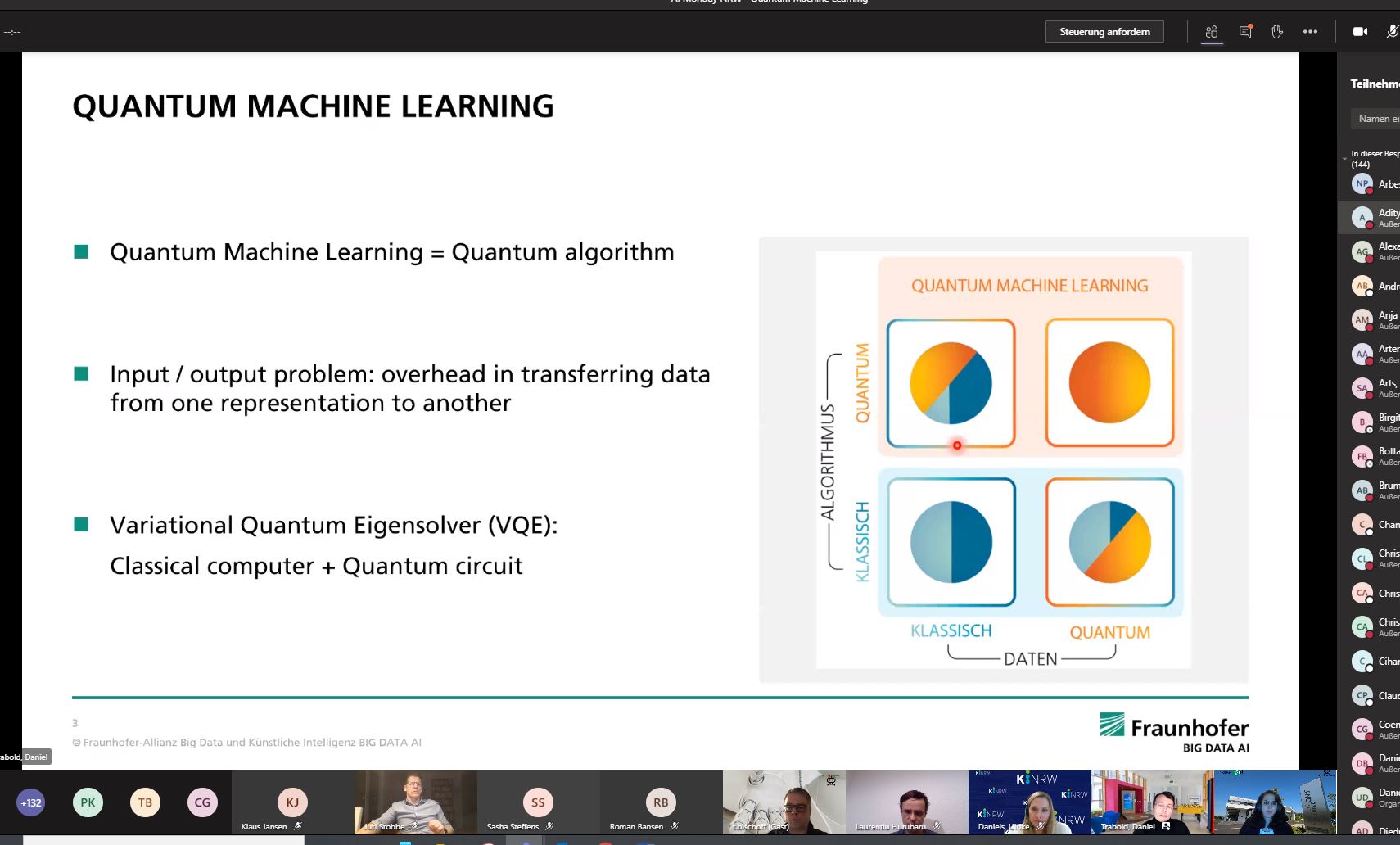 Fraunhofer, Bitkom and Telekom present Quantum Machine Learning at "AI Monday"
For years, AI Monday, which originated in Finland, has been gathering enthusiasts around AI technologies and inviting renowned speakers to discuss the latest developments. The event is scheduled for one Monday evening per month and is hosted by Juri Stubbe from Taival together with changing organizers. On this first AI Monday in 2021, three representatives of the AICommunityOWL, the AI Living Lab and KI.NRW assisted him and hosted the new Chapter NRW for the first time with the topic Quantum Machine Learning.
Ulrike Daniel (Fraunhofer IAIS) from KI.NRW introduced the new Chapter NRW on Monday, January 25.
Thomas Bischoff (Phoenix Contact) from the AICommunityOWL – already a companion in the design of hackathons – showed the activities in NRW in the field of AI.
Nissrin Perez (Fraunhofer IOSB-INA) introduced the AI Living Lab and then immediately led over to the first speaker.
Dr. Robert Bansen from Bitkom introduced the current infrastructural changes of High Performance Computing compared to previous computing capacities. Building on this, he outlined the advantages that quantum computing will have for use in various sectors such as logistics, production and energy. In the future, increasing computing capacities may make it possible to solve problems that are still difficult to solve by machine from today's point of view.
Machine learning has been offering many added values for years. However, Dr. Daniel Trabold from the Fraunhofer Big Data and Artificial Intelligence Alliance showed how Machine Learning can change through the use of Quantum Computing. He presented recent findings from research that will change the use of machine learning applications. A deeper dive into the research can be accessed here.
Claudia Pohlink from Telekom brought the audience down to practical level. She presented how Telekom is dealing with the topic of quantum computing and showed in a sympathetic manner which steps have already gone very well and which implementations her group had difficulties with. Pohlink got involved with quantum computing early on and recognized this technology as a trend topic long before other companies.
This was followed by lively discussions with the speakers in break out sessions. Dr. Bansen referred to <a href="https://www.bitkom.org/Deutsches-Quanten-Oekosystem">growing European expertise in the field of quantum computing and pointed to a German quantum ecosystem.</a>
The organizers are satisfied with the AI Monday. Nissrin Perez, who represented the AI Living Lab, summarizes: "It was a lively exchange with 150 interested listeners. We got a very good insight into an exciting technology and I think we will hear from the new Chapter NRW at AI Monday more often in the future".